What are 'H1 – H6' tags? (H2 Tag)
'H1 – H6' tags refer to Headings. Headings, in short give google an easy way to read what your website is, and how it breaks down. For example: A book has a Title, it is then broken down into chapters therefore the reader can easily understand where the book is going. Essentially, the book leads us to where it wants us to go.
So if you can imagine a website without titles, google won't know how to read your website. It will all just look like text. Good SEO in terms of 'H' tags would assume that H1 is the most important, and H6 the least important.
We often get mixed messages from web designers about the complexity of Website Building. It really can be quite simple. Don't get weighed down by the jargon… If in doubt, google it.
Have a look at the image below for how 'H' tags are broken down.
…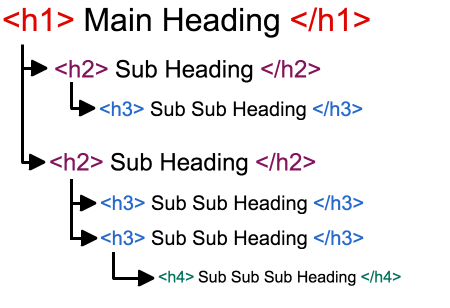 How does this look on a website? (H2 Tag)
Firstly, the page name is normally the H1 tag.
For example, Swarming Bee Web Design have a page called Content & Creation. This will be the H1 heading tag.
Next is the H2 Tag – Content Creation
Then the H3 Tag – Content and Ownership
Then another H3 Tag – What Content do we Provide?
And another H3 Tag – Our Content Creation Services include:
Lastly, another H2 Tag – Professional Content Creation
See below for how this is structured.
…
Content & Creation (H1 Tag)
What is Content (H2 Tag)
Who Owns the Content (H3 Tag)
The Content we Provide? (H3 Tag)
Professional Content Creation (H2 Tag)
What do H tags do?
The benefit of using and structuring your H tags is that google will be able to find you and break your website down so that it passes up relevant information for the browser looking for your service.
Using H Tags will also benefit you because Google rates websites on the User Experience (UX) of your website. When laying out your website it is critical to think of how the user will travel through the website. My advise, keep it simple…
Want to Improve your SEO even further? Click here.
Other common mistakes with websites can be found here.